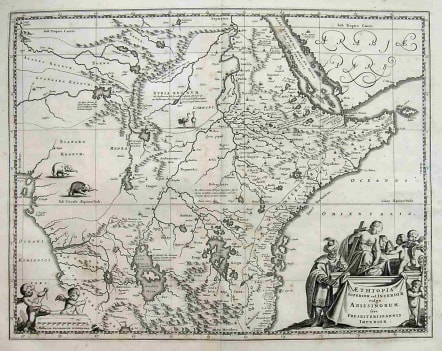 EAST AFRICA AETHIOPIA SUPERIOR VEL INFERIOR
Sold
Full title:Æthiopia Superior Vel Interior Vulgo Abissinorum Sive Presbiteriioannis Imperior.
John Ogilby's work "Africa" was based on the Dutch publication of two years earlier, by Jacob van Meurs, of Olfert Dapper's "Naukeurige Beschrijvinghe Der Afrikaensche ...". Using, in the main, the same copperplate maps and views, this translation was the best English account of the continent to that time and was intended to be part of a series of atlases of all parts of the world, which, in fact, was never completed. The maps, with title cartouches supported by native figures, animals and so on, and the plates were finely engraved and represent evocative European perceptions of the regions as known during the seventeenth century. Central and Eastern Africa with accurate coastal definition and the two great lakes, centrally shown as the sources of the Nile and the Congo.Some staining in top matgin well away from printed surface.Very good condition
sold.
Cartographer : OGILBY John
John Ogilby (1600-1676) had a variety of colourful careers (not invariably ending in disaster) before he embarked on a career as a surveyor and cartographer. "Tooley's Dictionary Of Mapmakers" suggests he was a dancing master, poet, translator, historian, printer, publisher, Royal Cosmographer (1671), Master of the King's Revels in Ireland, founder manager and director of Dublin's first theatre and surveyor to the City of London, amongst others.
subscribe to our newsletter