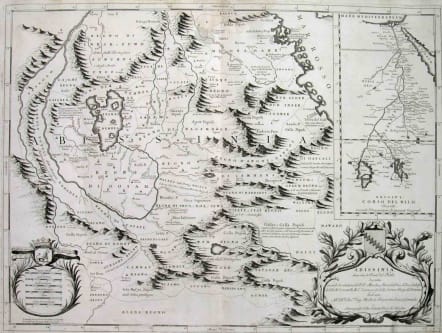 SOURCE OF NILE ABISSINIA
£485
Title : Abissinia, doue sono le Fonti del Nilo.. This very uncommon map concentrates of the source of the Nile in a lake called Tzana, Dembea, which Coronelli claimed to be the first to accurately depict. Extensive notations throughout. The map is graphically illustrated with large mountains, a large garland style title cartouche and scale of miles. Inset with a map of the origin of the Nile, on the Ptolemaic model, in two large lakes south of Abyssinia. The remarkable Vincenzo Coronelli (1650-1718), was a Franciscan Friar and appointed General of the Order in 1701. He was cosmographer to the Republic of Venice and founder of the Academia Cosmografica degli Argonauti, the world's first geographical society (1680). He was also one of the most prominent mapmakers and publishers in Europe of his day.Very good condition.
Cartographer : CORONELLI Vincenzo Maria
Vincenzo Maria Coronelli (1650-1718) is widely recognised as one of Italy's most famous and greatest cartographers
Coronelli constructed two globes for the Duke of Parma and their success insured an invitation to Paris where he was to construct another, very large-scale (some fifteen feet in diameter) pair of globes for Louis XIV
In 1680 Coronelli also founded the oldest surviving geographical society - the Academia Cosmografica degli Argonauti.
As 'Map-maker Royal' to Louis XIV, Coronelli was based in Paris from 1681 to 1683. Here he had access to the latest French manuscript records, which he incorporated into his printed maps. Coronelli also published numbers of important maps in conjunction with the French publisher, Jean Baptiste Nolin. Nolin had engraved a set of celestial globe gores for Coronelli in 1688 and went on to become the French publisher of Coronelli's maps
Coronelli also published the Atlante Veneto (1691-1696), which was intended as a continuation of the Blaeu Atlas Maior. This vast work comprised some thirteen volumes and a wealth of information. Lists were included of ancient and modern geographers along with astronomical, geographical, historical and ecclesiastical detail. The maps from the Atlante Veneto are engraved in characteristic fine bold style, using the latest geographical information available. Many of the more important maps were engraved on two sheets, to allow greater detail.
subscribe to our newsletter