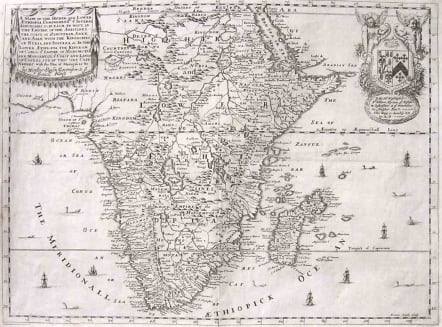 SOUTH AFRICA A MAPP OF THE HIGHER AND LOWER AETHIOPIA
Sold
Superb example of Richard Blome's scarce map, the earliest folio sized map of the region to be engraved in England. While Speed's atlas was published prior to Blome, the plates were engraved and printed in Amsterdam. The map demonstrates the naïve engraving style characteristic of 17th Century English engravers, and features an elaborate heraldic cartouche and a dedication to Robert Viner offLondon, Alderman Knight & Baronet. Several sailing ships and sea monsters. Blome's maps, because of their rarity and importance in the history of English Cartography, are essential items for regional collectors. Blome first began engraving maps for his Geographical Description Of The Four Parts Of The World in 1667. The completed volume was in small folio, and contained 24 maps (plus one duplicated), engraved by Francis Lamb, Thomas Burnford and Wenceslas Hollar. Blome's principal handicap in the production of the atlas was the lack of a domestic mapmaking environment comparable with that in Europe. Also, to finance his work, he undertook subscribers, in exchange for a promise to add their coat of arms to certain maps. Uncoloured as issued.Very good condition.
Richard Blome (1641-1705) was an English publisher and bookseller who flourished from about 1670 to 1705. He published two series of English county maps. The large series appeared in Blome's Britannia, or a Geographical Description of the Kingdomes of England, Scotland and Ireland, with each map measuring approximately 300 x 250mm. The smaller series, with the maps approximately 240 x 180mm, were published in Blome's Speed's Maps Epitomiz'd: or the Maps of the Counties of England.
Blome also issued a world atlas, the Geographical Description of the Four Parts of the World, in 1670, which was re-issued as the Cosmography and Geography, in 1682 and 1693. The maps from this atlas were Anglicized copies of Nicolas Sanson's work. Blome also issued a number of Bible maps, usually after Visscher.
subscribe to our newsletter