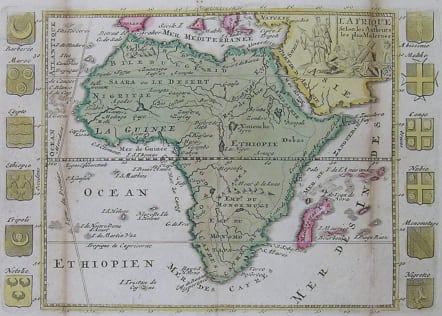 L'AFRIQUE SELON LES AUTHERSLES PLUS MODERNES
Sold
Rare map of Africa in full original colour.
The continent of Africa form an early 18th century perspective. The Niger River is mapped with surprising accuracy, especially considering its highly inaccurate mappings nearly 100 years later in the 19th century. The Mountains of the Moon, supposed source of the Nile, are located considerably south of where they appear in other maps of the period. Early Ptolemaic maps do note these mountains as well as two large lakes just to the north. Though the Mountains are present, both of these lakes are absent indicating an interesting evolution, away from the Ptolemaic conception, in African cartography. In southern Africa two large Empires are named, Monoemugi and Monomotapa. This is the great southern African gold mining region. Surrounding the map are twelve armorial crests. The crests include those of both Arab and African powers in the region including Barbarie, Maroc, Egypt, Tripoli, Notolie, Malta, Congo, Nubia, Monomotape, and Nigreitie. The allegorical title cartouche in the upper right corner shows several Africans cooking over a fire while an Impala looks on.
Heraldic devices of countries down left & right hand sides.Cartouche.Folds with minor browning.An uncommon map in good condition.
Cartographer : LA FEUILLE Daniel
Daniel de La Feuille (1640 - 1709) was born of Huguenot stock in Sedan , France. There he was apprenticed as a watchmaker. In 1663 he married Charlette Marlet, the daughter of a local carpenter. Twenty years later, in 1683, facing religious prosecution of Huguenots in France, the family fled to Amsterdam. By 1686 Daniel had become a burgher (citizen) of the city and established himself as a engraver, publisher, and art dealer. Not long after, in 1691, he was admitted into the Booksellers Guild. Though we are primarily concerned with his cartographic work here, his masterpiece is considered to be Devises et emblems, a collection of symbols and designs mostly likely intended as templates for silversmiths, engravers, and watchmakers. His cartographic work includes numerous individual maps and atlases, many of which continued to be published and republished well after his death in 1709. He was succeeded by his sons Jacob de la Feuille (1668 - 1719) and Paul de La Feuille (1688 - 1727)
subscribe to our newsletter