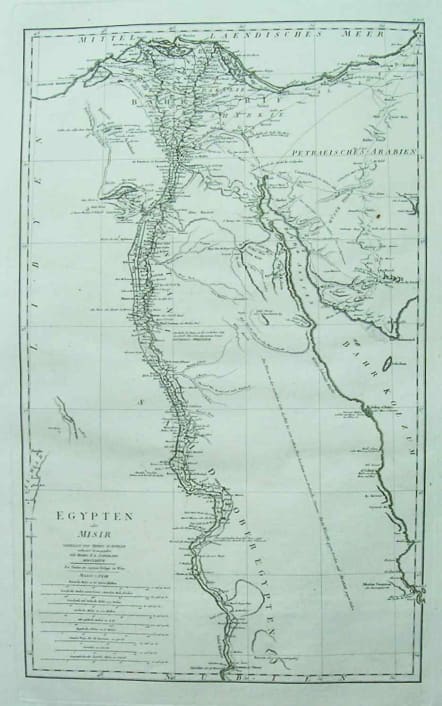 EGYPT EYGPTEN ODER MISIR
£150
Title: Egypten oder Misir verfasst von Herrn D'anville verbessert herausgegeben von Herrn F. A. Schraembl
A finely engraved chart of the Nile River valley from Aswan in the south to the delta. The map is based on D'Anville's "Egypte nommee dans le pays Missir" dated 1765. It is filled with incredible detail including the location of emerald mines, ancient ruins, and caravan routes.
Excellent condition.
Cartographer : Franz Schraembl
SCHRAEMBL, Franz Anton
1751-1803
In the last decades of the eighteenth centurv Anton Schrambl and Joseph von Reilly led a successful revival of map making in Vienna.
Completion of Schrambl's ambitious World Atlas, started in 1786, based on the best available sources of the time, was much delayed and the maps were issued piecemeal year by year until the whole atlas appeared in 1800. 1786-1800 Algemeiner Grosser At/as
subscribe to our newsletter