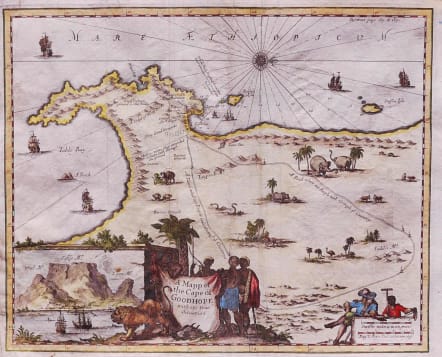 A MAP OF THE CAPE OF GOOD HOPE WITH ITS TRUE SITUATION
Sold
Rare and attractive map of the Cape.
This early English map of the Cape of Good Hope likely helped to inform the English of the importance of the Cape of Good Hope as a potential "way station" on the sea route to The Indies, though it was not for almost another 100 years before they seized this location from the Dutch.
This map is based on a book of travels by Johan Nieuhoff of 1682, who visited the Cape of Good Hope in 1672, later disappearing in Madagascar five months later. Nieuhoff's narrative and this map of the Cape, this time with English text, appeared in Awnsham and John Churchill's collection of voyages and travels in 1732 and 1744. This particular map is from the Churchill book.
Title cartouche of animal skin held by natives dominates the bottom center. On left is a block of masonry which frames a scene of Table Bay in front of which is a lion, and behind a palm tree. Bottom right is a scale, in Dutch, on a wall behind which is a fancily dressed Dutchman and a small African child holding measuring instruments. The mainland has numerous animals and a road depicting the route of the travels through the "Countrys". There is considerable detail near the point outlining arable land and Barron grounds. Proposed canal shown crossing the peninsula is described.
Excellent hand colour.
Some flattened folds as in book otherwise Very good condition.
THANKS TO BETZ MAPS
Reference: Norwich, Map # 209 (Norwich uses a date of 1703 for this map, but we believe this is too early). Cartwright. Maps of Africa 1550-1750. p26. # 53. Mendelssohn. South Africa Bibliography. Vol I 336-7; Vol II, 104.
Cartographer : NIEUHOF Johannes
Date : 1682 / 1732 London
Nieuhof, Johannes, 1618-1672
subscribe to our newsletter