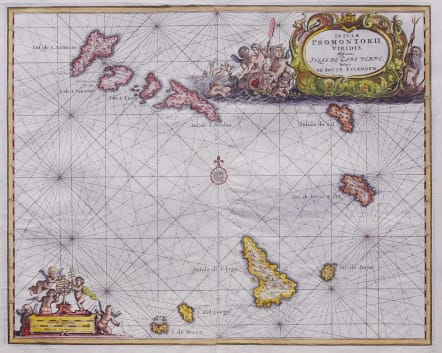 CAP VERDE ISLANDS INSULAE PROMONTORII VIRIDIS
Sold
A beautiful sea chart of the important Cape Verde Islands based on Blaeu's map of the same title. Beautifully embellished with rhumb lines and a compass rose, it features two cartouches with cavorting cherubs and mermaids. Excellent hand colour.
Very good condition.
Cartographer : OGILBY John
John Ogilby (1600-1676) had a variety of colourful careers (not invariably ending in disaster) before he embarked on a career as a surveyor and cartographer. "Tooley's Dictionary Of Mapmakers" suggests he was a dancing master, poet, translator, historian, printer, publisher, Royal Cosmographer (1671), Master of the King's Revels in Ireland, founder manager and director of Dublin's first theatre and surveyor to the City of London, amongst others.
subscribe to our newsletter