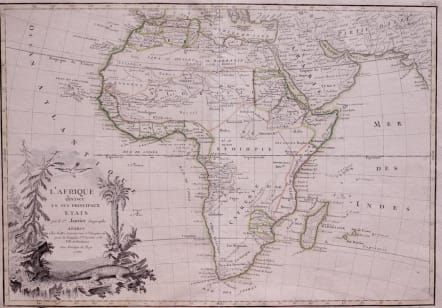 L' Afrique divisee en ses principaux Etats
Sold
Handsome copper engraved map of the continent showing the extent of knowledge in the mid 18th century. While mostly accurate, it does have remnants of fantasy such of the twin lake source of the Nile in the 'Mts de la Lune' which in this depiction is quite a bit north of the Equator. 'C. de Bonne Esperance' and 'Stellembos Pic' are the only settlements marked in southern Africa, which is occupied by the Hottentot tribes. The pictorial title cartouche features pine trees, a leopard and a crocodile.
very good condition
Publication: Atlas Moderne
Ref: Norwich #104.
Cartographer : JANVIER Jean
Jean or Robert Janvier (fl. 1746 - 1776) was a Paris based cartographer active in the mid to late 18th century. Janvier true first name is a matter of debate, as it appears as it often appears as either Jean or Robert. More commonly, Janvier simply signed his maps Signor Janvier. By the late 18th century Janvier seems to have been awarded the title of "Geographe Avec Privilege du Roi" and this designations appears on many of his latter maps. Janvier worked with many of the most prominent French, English and Italian map publishers of his day, including Faden, Lattre, Bonne, Santini, Zannoni, Delamarche, and Desnos.
subscribe to our newsletter