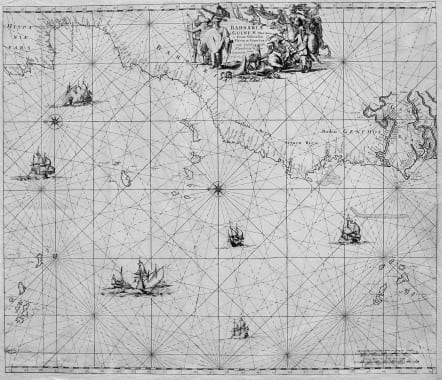 BARBARIAE GUINEAE MARITIMI...
Sold
A highly decorative sea chart of the northwest coast of Africa, including from Spain, across the Straits of Gibraltar to Gambia. The various islands groups in the Atlantic are depicted as well - Azores, Madeira, Canaries, and Cape Verde Islands. Around Cape Verde, more information on the African river systems is provided, reflecting French exploration of the Senegal and British exploration of the Gambia. Both nations by this time had begun to take possessions respectively in some areas. This sea chart was first published in De Wit's Orbis Maritmus ofte Zee Atlas of 1675 and appeared in later editions as well. De Wit's sea charts from his Zee Atlas are sought after for their geographical content as well as their attractive cartouches and vignettes. A large title cartouche dominates the top of the chart. This cartouche shows various peoples of North Africa in action as well as Africans. Fat-tailed sheep, snakes, and lizards are in foreground. Scene of Moslem North Africans and Africans. Several compass roses are shown as are a number of sailing vessels including two naval battles involving Dutch.
Very good condition.
Norwich Map #252 for the later Renard sea chart. Tooley [under De Witt], p. 124.
Cartographer : WIT Frederick De
Frederick De Wit (1610-1698) was a prolific Dutch engraver and publisher, active in Amsterdam in the second half of the seventeenth century. He acquired a number of copperplates from the sale of the Blaeu and Jansson stocks to supplement his own plates, thus having a stock of about four hundred maps. De Wit's own maps are noted for the fine standard of engraving, invariably well designed and decorative. They were very popular amongst his contemporaries, being reprinted many times both by himself and his successors, the Mortiers.
subscribe to our newsletter