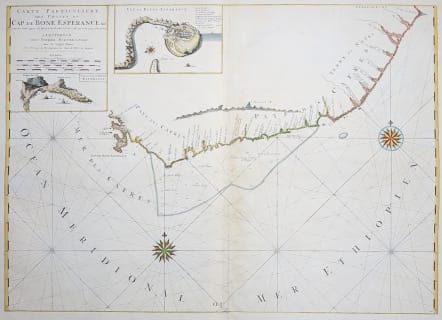 CARTE PARICULIERE DES COSTES DE CAP DE BONE ESPERANCE
£595
Uncommon and interesting sea chart.
A large and magnificent sea chart that details the coastline of the Cape of Good Hope. The maps shows the coastline from today's Cape Town to Cape Agulhas (the southernmost tip of Africa) and further east perhaps as far as today's Port Elizabeth and Algoa Bay. The interior is blank with all details along the coastal areas. The chart includes two insets, "Cap de Bonne Esperance" is a plan of the cape and harbor with good detail of the town (today's Cape Town) and fort with legend naming nine buildings. This plan locates the garden planted by the Dutch East Indies Company to provide fresh vegetables and fruit for their sailors, as well as Hottentots' homes, the mill and more. The second is a birds-eye-view of the Cape featuring Table Mountain. The sea is filled with rhumb lines and two fine compass roses. A large and very striking chart printed on two joined sheets. A great chart detailing this important and historical sea passage.
Excellent hand colour
Slight toning near centre fold where the 2 sheets were joined otherwise very good condition for this Rare map.
.
Ref: Norwich #266.
Cartographer : Pierre Mortier
subscribe to our newsletter