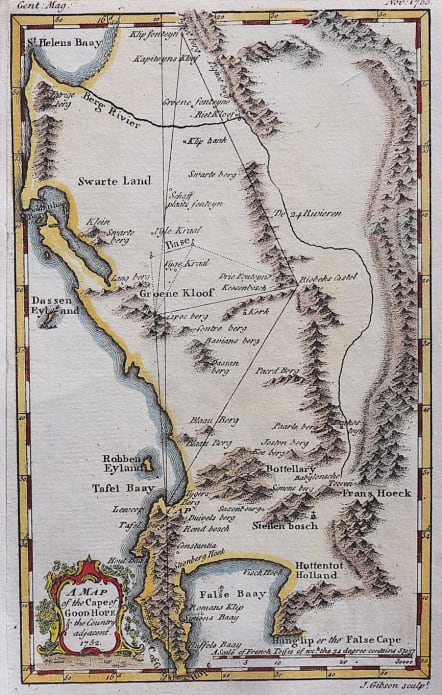 CAPETOWN A MAP OF THE CAPE OF GOOD HOPE & THE COUNTRY ADJACENT
Sold
Attractive map of Cape Colony in the mid Eighteenth century.
The map has an interesting history that can be seen from Roger Stewart's article in Imcos Journal 119. This map is an early English version of Abbe Nicolas-Louis De La Caille's map. One can see the triangulation for measuring the arc of the meridian at Cape Town.
Cartouche.
Good hand colour.
Very good condition. RARE
Publication
The Gentlemans Magazine 1752
Cartographer : John GIBSON
John Gibson, contemporary to Bellin and Bonne, was an important British cartographer of the late 18th century. He produced thousands of maps and was noted as a skilled engraver and sculptor. Gibson's most important work is the pocket sized 1758 Atlas Minimus. Gibson unfortunately was not as astute in his personal life as he was with the engravers pen and spent much of his life in and out of debtor's prison.
subscribe to our newsletter