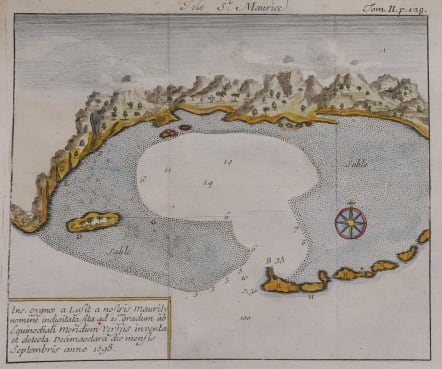 ISLE ST MAURICE
Sold
Isle St. Maurice. Ins. cygnae a Lusit, a nostris Maurity nomine indigitata, sita ad 21um gradum ab Equinoctiali Meridiem versus inventa et detecta Decima-jctava die mensis septembris anno 1598.
Uncommon map of the Bay of Mauritius, a small island located in the South-West Indian Ocean, off the east coast of Madagascar.
Mauritius is well known for the Dodo, the extinct bird. The Dutch came in the early 17th century and named the island Mauritius after Prince Maurice de Nassau. They exploited severely the island by cutting the valuable ebony trees and are responsible for the extinction of the dodo birds. Their exports were so great that the price of this timber fell on the Dutch market. They introduced sugar cane before leaving the island in 1710 due to severe droughts and damage caused by cyclones.
From the French reissue of the account of early Dutch voyages first published in 1608 by Commelin. The French translation was carried out by René Augustin Constantin de Renneville, entitled : Recueil des voiages qui ont servi à l'établissement & aux progrès de la Compagnie des Indes Orientales formée dans les Provinces-Unies des Païs-Bas. .
From volume one, the second part describes the first Dutch voyage by way of the Cape of Good Hope under the command of Houtman (1595-96).
Excellent hand colour
Very good condition.
subscribe to our newsletter