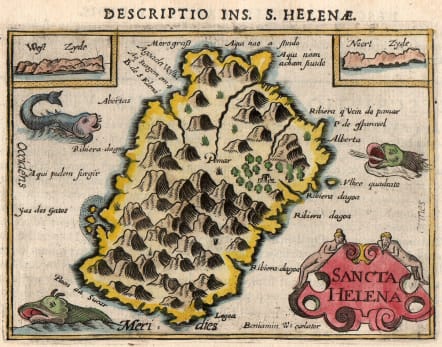 SANCTA HELENA
£125
Early attractive map of St Helena island. Title cartouche in the lower right corner. Surrounding the island, three sea monsters are depicted. On both upper corners, two insert maps of West Zyde and Noort Zyde .First published in 1598 in his Caert-Thresoor, engraved by Benjamin Wright. The atlas set a new standard for minor atlases. The small maps is extremely well engraved.
The map shows a accurate for the period representation of the outline of St. Helena. The map was evidently derived from a Portuguese source as locations on the island are named in Portuguese. Of the identifiable locations named on the map, Moro grosso (big hill) is Sugar Loaf, Ylheo quadrato (square islet) is George Island, Yas dos Gatos (Islands of the Cats?) are Egg Island and Peaked Island, and Ribiera q'vein do pamar (stream coming from the orchard) and Pomar (orchard) probably refer to Shark's Valley and the presence of an orchard at the head of the valley.
Excellent hand colour
Mint condition
Koeman, Atlantes Neerlandici, Volume II, Lan 9.
Cartographer : LANGENES Barent
Date : 1598 /1600 Amsterdam
Barent Langenes
Langenes was a publisher in Middelburg about whom little is known except that he produced the first edition of a very well known miniature atlas, the 'Caert-Thresoor'.
The atlas was published by Cornelis Claesz in Amsterdam, the foremost publisher of the day. The copperplates were engraved by brothers-in-law Jodocus Hondius and Petrus Kaerius, the most skilled engravers of the day.
The Caert-Thresoor
The Caert-Thresoor, a small atlas of the world in oblong format, appeared in 1598; thereby, its publishers wrote a new page in the history of atlas cartography. The preparations for this prototype of the new generation of Dutch pocket atlases began around 1595. At that time, Cornelis Claesz commissioned the skilled engravers Jodocus Hondius and Pieter van den Keere to engrave the maps. An unnamed young writer and poet - in Burger's opinion, it was Cornelis Taemsz of Hoorn - was called upon to write the accompanying text. Claesz wanted his Caert-Thresoor to outshine the similar small world atlases that had been produced thus far in Antwerp. In this way, he set out to spark interest in and knowledge of geography among the public at large in the Northern Netherlands. In view of the various reprints, editions, and adaptations of this work in Dutch, French, and Latin, obviously the Amsterdam publisher was quite successful in that endeavor.
subscribe to our newsletter