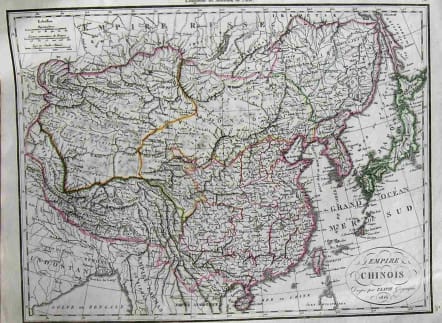 EMPIRE CHINOIS
£45
Detailed copper engraved map of China with many place names rivers deserts etc.Original outline colour.Very good condition.
Cartographer : LAPIE Pierre
Pierre M. Lapie (fl. 1779 - 1850) and son Alexandre Lapie (fl. 1809 - 1850) were French cartographers and engravers active in the early part of the 19th century. Lapie (Pierre), cartographer, born at Mezieres in 1771, died in 1850, was admitted in 1794 to the corps of topographical engineers, in that capacity he made several campaigns, rose to the rank of Colonel of Staff, and in 1814 became director of the topographical cabinet of the king, was, from 1818 he was responsible for the direction of the new topographic map of France, and had the greatest part in the execution of this magnificent work. He published a classic Atlas (1812), which was improved in several successive editions, and a Universal Atlas of Ancient and Modern Geography (1828), one of the best of his era.
subscribe to our newsletter