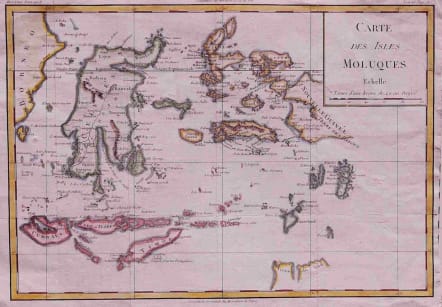 EAST INDIES CARTE DES ISLES MOLUQUES
£75
Attractive and uncommon map probably based on geographical information by De L'IIsle.
Box title, covers Celebes, Flores and Timor to Nouvelle Guinee and all surrounding islands. Tip of Terre du Sud. Issued in Histoire Universal.
Excellent hand colour. Folds as issued. Very good condition.
Cartographer : Louis Brion de la Tour
Louis Brion de la Tour (1756-1823) was the Cartographer Royal to the King of France.
There is little information about his life. His official title was "King's Engineer Geographer." Although he is a prolific geographer, very little is currently known of his life or his career. His life was spent in scientific work. However what is known is an important part of his work was done in collaboration with Louis Charles Desnos (1750-1790 to) a bookseller and geographical engineer for the globes and spheres of His Danish Majesty.
His son Louis Brion de la Tour, a pupil of Jean-Bernard Restout, was engraver of maps and documents of the Revolution, and was also an occasional portrait oil paintings.
subscribe to our newsletter