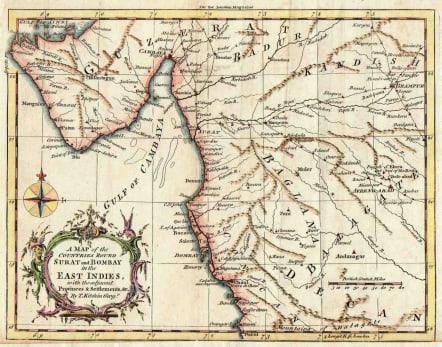 BOMBAY SURAT A MAP OF THE COUNTRIES AROUND SURAT AND BOMBAY
£120
Rare map of the area around Bombay and Surat. Decorative cartouche and compass rose.Good hand colour. Bottom margin added for framing etc, all printed surface complete with no loss to map. Very good condition.
From
The London Magazine for 1759 Vol. XXVIII 28
Cartographer : KITCHIN Thomas
Thomas Kitchin (1718-1784) was one of the best and most prolific engravers of the eighteenth century. He issued The General Atlas, Describing the Whole Universe , first published in 1773, and regularly reissued thereafter. His work also included a large number of maps of the English counties, particularly for the London Magazine (1747-1760), the Universal Magazine (1747-1766), and for Dodsley's England Illustrated (1764). Other maps were published in conjunction with Emanuel Bowen in the Large English Atlas and the Royal English Atlas (1763).
subscribe to our newsletter