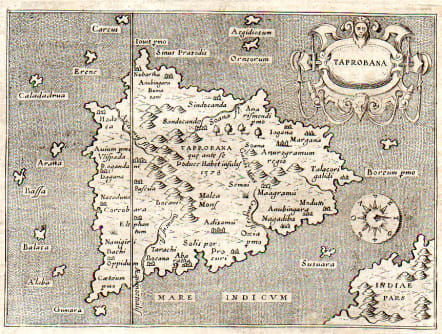 TAPROBANA DESCRITTIONE DELL' ISOLA TAPROBANA
Sold
Attractive and unusual map of the island of Sri Lanka with north oriented to the right of the map. Only a bit of the Indian mainland is shown and it is incorrectly depicted to the east of the island.
Strapwork title cartouche, an unusual compass rose and a stipple engraved sea combine to make this a very attractive map.
This map was engraved by Girolamo Porro and issued in Porcacchi's L'Isole piu Famose del Mondo in 1572.
MINT Condition
Ref: King (2nd Ed.), p. 57-59.
Cartographer : PORCACCHI Tomaso
Size : 29*20.5 cms sheet map 11*15 cms
Tomaso Porcacchi of Castiglione Aretino [1530-1585]. Italian. Published "L'Isole piu famose del Mondo" Venice, from 1572
subscribe to our newsletter