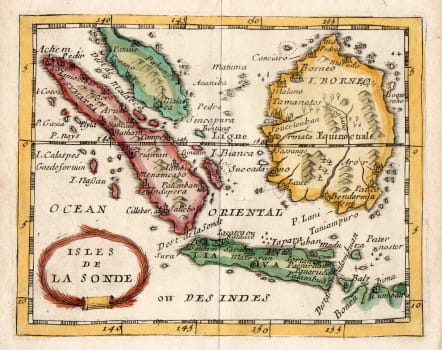 ISLES DE SONDE
£95
Very attractive small map is of the Sunda Islands in the Malay Archipelago, by Pierre Duval, published in 1682.
It is titled Isles de la Sonde (Sunda Islands) and includes Malaysia, Sumatra, Java, Borneo, Bali, Lombok and Sumbawa. Sincapura marked.
Excellent hand colour
Very good condition
Cartographer : DU VAL Pierre
Size : 10*12.5 cms sheet 14*15 cms
Pierre Du Val (1619-1683) was one of the most influential and prolific mapmakers and publishers working in Paris in the third quarter of the seventeenth century. He was the nephew of Nicolas Sanson, the leading French mapmaker of the period, and Geographer to the King of France from 1650. He was also responsible for providing maps for other Parisian editors of the period; Jollain, de Fer and Berey amongst others.
subscribe to our newsletter