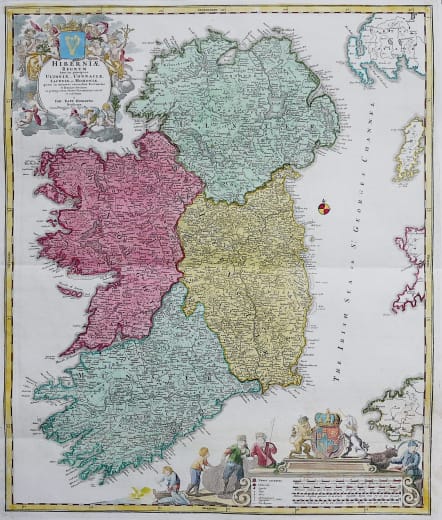 HIBERNIAE REGNUM
Sold
Attractive and important map of Ireland ..A fine example of Homann's work, this map bears all of the distinctive hallmarks of Homann's style at the height of his career: a strong dark impression, heavy yet detailed engraving work, elaborate allegorical title cartouches, and a rich but tasteful application of color. The prototype of this map was drawn in 1689 by the Amsterdam cartographer Nicholas Visscher II, who Homann credits in the title cartouche. Visscher's map became the model for most future maps of Ireland well into the late 18th century. Homann revised and updated this map to reflect early 18th century changes to the island. Here Ireland is divided into its four provinces, Munster, Connought (Connacht), Leinster (Lenister) and Ulster, then subdivided into numerous counties. Roads, mountains, forests, swamps, rivers, lakes, bridges towns, and even some offshore details are noted. The elaborate title cartouche in the upper right is rich with Gaelic iconography, including the Gaelic Harp and allegorical representations of Pan, a Celtic adaptation of the Roman god Bacchus, and Brigit, the Celtic goddess of poetry, healing and agriculture. Another cartouche in the lower right hand quadrant frames the map's key and four distance scales. Here we see four fisherman pulling in the day's haul, a clear nod to Visscher, who's Dutch name translates to Fisherman. Above the map key itself is the royal crest of the United Kingdom, who at the time laid claim to Ireland.
Original colour with cartouche coloured at probably a later date.
Very good condition.
The Family HOMANN
Johann Baptist Homann (1664-1724) started his career in Amsterdam as an apprentice with the Danckerts family before returning to Nuremberg to establish himself in business in 1702. The firm quickly became the principal geographical publishers in Germany and in 1715 Homann was appointed Geographer to the Holy Roman Emperor and he was also a member of the Prussian Royal Academy of Sciences. His publications included the "Neuer Atlas Ueber Die Gantze Welt ..." in 1707-. The "Grosser Atlas ..." of 1716- and the "Atlas Novus Terrarum Orbis Imperioa" in c.1720, as well as many others. Johann died in 1724 and was succeeded by his son Johann Christoph who died in 1730. After his death the firm took the name Homann's Heirs and continued thereafter until 1813. Publications with the Homann's Heirs' imprint included the "Grosser Atlas" in 1731, Doppelmays'r "Atlas Coelestis ..." in 1742 and the "Atlas Geographicus Maior ..." in 1753-, amongst others. Throughout this entire period the firm were the leading map publishers in Germany, employing a number of very important cartographers
subscribe to our newsletter