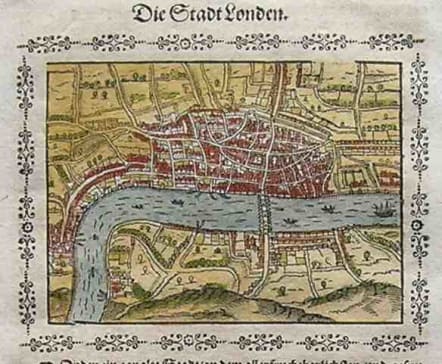 LONDON DIE STADT LONDEN
Sold
Very rare woodcut view of London.There were 2/3 printings of Saurs' maps originally printed in 1595 with the woodcuts by Abraham Saur published by N. Basse.Later printed in in "Parvum Theatrum Urbium sive Urbium Praecipuarum totius orbis Brevis & Methodica Descriptio" by Adrianus Romanus printed 1608 in Frankfurt.Excellent hand colour. Very good condition.
Bachmann 14. Fauser I, LXIV 225
Cartographer : SAUR Abraham
Abraham Saur (*1545 - †1593)
Abraham Saur, a German lawyer and historian, born 1545 in Frankenberg. He was author of several legal book, but also of the city book "Theatrum Urbium". He died in 1593.
subscribe to our newsletter