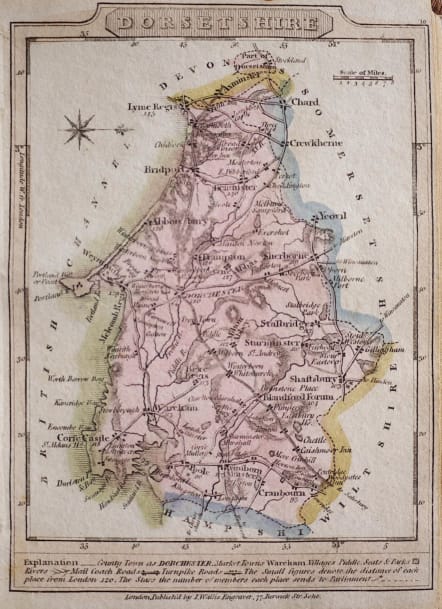 ATLAS ENGLAND WALES WALLIS'S TRAVELLING COMPANION
£600
WALLIS'S NEW POCKET EDITION OF THE ENGLISH COUNTIES OR TRAVELLER'S COMPANION IN WHICH ARE CAREFULLY LAID DOWN ALL THE DIRECT & CROSS ROADS, CITIES, TOWNES, VILLAGES, PARKS, SEATS, AND RIVERS, WITH A GENERAL MAP OF ENGLAND I (sic!) WALES. LONDON PUBLISHED BY J.WALLIS, ENGRAVER, BERWICK ST. SOHO, AND SOLD BY DAVIES & ELDRIDGE EXETER. (1810.) 12mo. 44 Maps.
Small coloured maps with the West at the top, giving special prominence to the mail-coach and other turnpike roads and also showing towns (with distances from London), principal villages, hills, parks, canals (as shown in "Cary's Traveller's Companion" of 1789) and rivers.
A star compass indicator, the scale. The border is formed by a thick and a thin line with a double inner line marked off into degrees and minutes of latitude and longitude (Greenwich meridian). The outer lines at the top are carried up about 1/4 in. in order to accommodate the title, which is in a vertically hatched lozenge. At the bottom the same lines are 3/8 in. below the inner border, thus forming a panel for the "Explanation." Below the border, the imprint. The backs are plain.
Rebound in beautiful leather binding circa1920. All maps with original colour.Very good condition.
subscribe to our newsletter