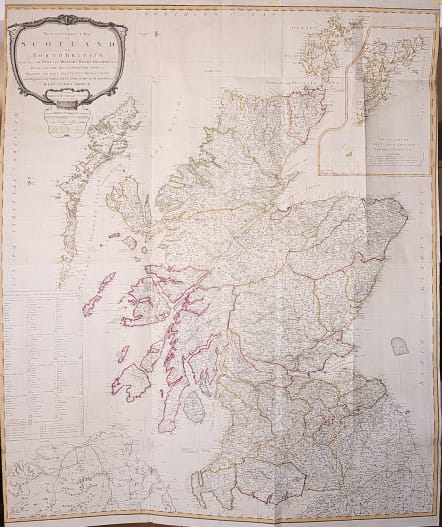 A NEW AND CORRECT MAP OF SCOTLAND OR NORTH BRITAIN..LIEUTENANT CAMBELL
Sold
Stunning large / wall map of Scotland from the endof the Eighteenth century.
The geography is from Marcus Armstrong's map of 1782. Robert Sayer's issue had extensive re-working of all four plates on the basis of information supplied by one Lieutenant Robert Campbell. The N.W. coast is slightly revised and the Western Isles entirely re-drawn except for the North part of Lewis. Some roads are re-drawn and some added. There is a new cartouche and title. This example of what had become a magnificent and fully informative map is from the Laurie & Whittle re-issue. Four sheets joined.
Reinforcement on a couple of folds and a small repaired near invisible tear.
Very good condition.
Attached photo bad as difficult to photograph but map is in good state.
REF Moir, The Early Maps Of Scotland, Vol I, p203, 1790
Cartographer : LAURIE & WHITTLE
subscribe to our newsletter