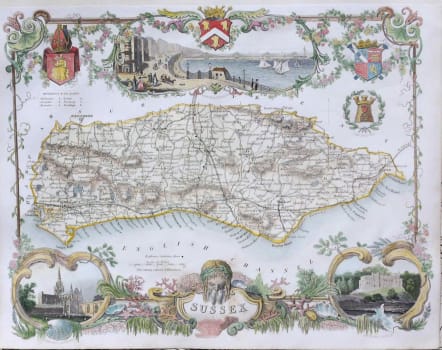 SUS
Sold
A highly decorative map of Sussex with views of Brighton, Chichester cathedral & Arundel castle.
The Moule county maps were unusual for the period in that they were highly decorative. The scientific rationality of the late 18th & early 19th century had seen a move away from the flamboyance of earlier map making; emphasising instead a greater desire for accuracy and detail. Thomas Moule, like many of his contemporaries however, was drawn to a more simplistic, pre-industrial age. This was clearly reflected in his maps with their neo-Gothic borders, heraldic shields and views of ancient building; ironically, the Moule maps issued later in the 1840s were amongst the first to show the newly constructed railways.
Excellent hand colour.
Very good condition.
Maps by Thomas Moule (1784-1851) are probably, with those by Speed, the best known of all series of English county maps. Issued from 1830, the maps combine a clarity of cartographic style with immense detail, by way of vignette views, scenes and portraits relating to the county shown, often set within a gothic architectural or floral surround into which armorial devices and so on are worked. As editions of the maps were published, first in "The English Counties Delineated" and later in "Barclay's English Dictionary", the development of the network of railways throughout England can be observed.
Moule, like many other map-makers and map-sellers before him, was a man of many talents. As an author his output included books and papers on topography, history, genealogy, heraldry and architecture; the maps he designed show elements of these studies. The maps and plans produced for Moule's "English Counties Delineated", originally issued as a part-work, include maps of each English county, the towns of London, Bath, Boston, Portsmouth and Plymouth, and the Isles of Wight, Man and Thanet. Frequently entitled "the last series of decorative county maps", they are good informative maps, as popular now as they were in the early years of Queen Victoria's reign
subscribe to our newsletter