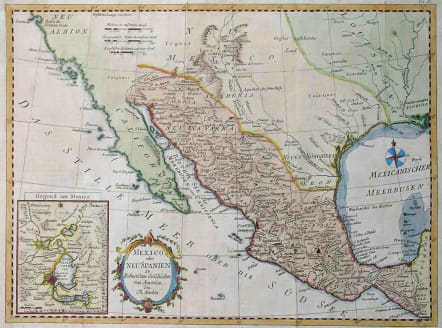 MEXICI NEW MEXICO MEXICO ODER NEU SPANIEN
Sold
Uncommon.
From Robertson's Geschiedenis van America. Amsterdam, 1778.
The information in Mexico, including New Mexico up the Rio Grande, is quite good. Along the Gulf coast the major rivers are indicated and in "Tecas" are noted "Cenis" and "Presidio," near the latter of which the note indicates that "Hier liess sich de la Sale 1685." Also included in the map is an inset of the region around Mexico City.
Very good hand colour.Very good condition.
Cartographer : KITCHIN Thomas
Thomas Kitchin (1718-1784) was one of the best and most prolific engravers of the eighteenth century. He issued The General Atlas, Describing the Whole Universe , first published in 1773, and regularly reissued thereafter. His work also included a large number of maps of the English counties, particularly for the London Magazine (1747-1760), the Universal Magazine (1747-1766), and for Dodsley's England Illustrated (1764). Other maps were published in conjunction with Emanuel Bowen in the Large English Atlas and the Royal English Atlas (1763).
subscribe to our newsletter