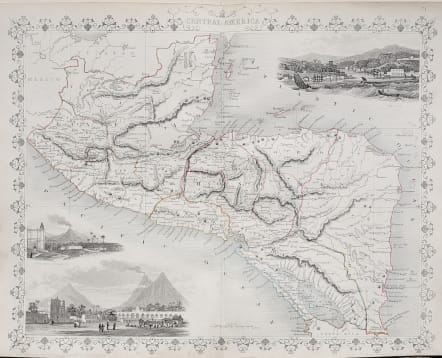 CENTRAL AMERICA
Sold
Attractive and detailed decorative map of Central America. The steel engraved map extends from Mexico to Costa Rica and includes the proposed route for a rail and canal system between the Atlantic and Pacific Oceans. It features three vignettes and fancy borders of the Tallis style: Volcano of Isalco, Great Square of the Antiqua in Guatemala, and a Belize beach scene. Engraved by J. Rapkin.
Original outline colour
Very good condition.
Cartographer : Tallis John
TALLIS, John
active 1838-1851
John Tallis founder of Tallis and Co., London map publishers who traded under various names: L. Tallis, Tallis & co, John Tallis, John Tallis & co. (London & New York) between 1838 and 1851. After 1850-51, their maps were published by the London Printing and Publishing Co., London and New York.
The Illustrated Atlas of the World, published in 1849 with the maps and decorative vignette's engraved and drawn by J. Rapkin, was one of the last atlases to be truly decorated and is therefore highly prized.
subscribe to our newsletter