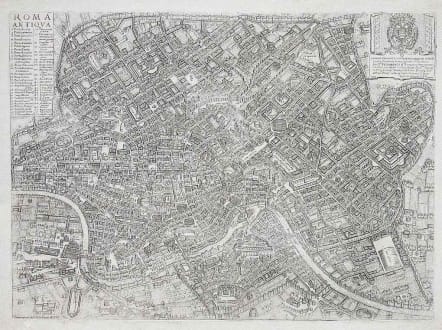 ROME ROMA ANTIQUA
Sold
RARE map of ancient Rome .Published :Romae Apud Carolum Losi. Carlo Losi.
A scarce plan of ancient Rome, showing the city with the Tiber River below and extending to the fortifications at the top of the map. A numbered list at the left locates 52 landmarks and building names, including a number of amphitheaters. The naumachia, located on the far left of the map, was a specialized theater used to re-enact naval battles in honor of the emperors. A decorative coat of arms with a dedication fills the upper right corner. This was engraved by Carlo Losi, who is better known for issuing engravings of Renaissance subjects. No other examples are to be seen in thirty years of price records.
This appears to be only the second to have surfaced in 30years.
Single sheet published seperately never in an Atlas.
Uncoloured as issued.
http://www.oldworldauctions.com/archives/detail/123-633.htm
subscribe to our newsletter