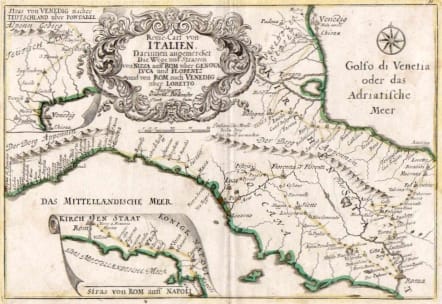 NORTH ITALY REYSE-CART VON ITALIEN
Sold
Full title: Reyse-Cart von Italien. Darinnen angemercket. Die Wege und Strassen von Nizza auff Rom uber Genovaluca und Florentz Grund von Rom nach Venedig uber Loretto. Augspurg. Gabriel. Bodenehr Fecit et Exeu.
Copper engraving, hand colored in outline when published. This fine engraving was published in Gabriel BodenehrÕs famous series 'Curioses Staats und Kriegs Theatrum in Italien, durch unterschiedliche Geographische, Topographische, und Historische Land Carten, Grundrisse, und Prospect ErlŠutert.', a series of engravings depicting city views, plans, fortresses and castles in North Italy. Gabriel Bodenehr was during this period a successful publisher for maps and prints in Augsburg in Southern Germany.
Very good condition.
Cartographer : BODENEHR Gabriel
BODENEHR, Gabriel
1673-1765
German engraver and mapmaker of Augsburg. Son of Johann Georg Bodenehr [1631-1704] & from a family dynasty of engravers and publishers.
His works include Atlas Curieux [1704] and Curioser Staats und Kriegs Theatrum [1715].
In 1717 the family took over the Augsburg publishing house of Stridbeck. Succeeded by his son Gabriel the younger.
subscribe to our newsletter