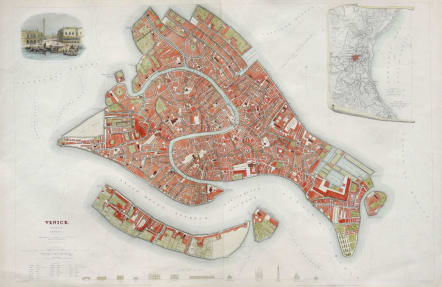 VENICE VENEZIA VENEDIG
Sold
Very attractive double page map of Venice.
Very finely engraved plan of the city featuring excellent detail of canals, streets, and scores of named buildings. With a large inset "Plan of the Environs of Venice, Shewing the Lagunes" that is contained within a handsome scroll border. Also a finely engraved and well rendered bird's-eye "View of the Mint, St. Mark's Church, the Palace, &c." At lower left is a text block that discusses the number of houses, churches, and a "Population of 112,000 souls" along with 149 canals, and 306 bridges throughout the city. Along the bottom are the elevation plans for eleven buildings. Printed on two sheets - joined. Engraved by B.R. Davies from W.R. Clarke's drawing.
Excellent hand colour.
Near Mint condition..one of the finest examples I have szeen.
Cartographer : CLARKE W.B.
English Engraver Working for SDUK
subscribe to our newsletter