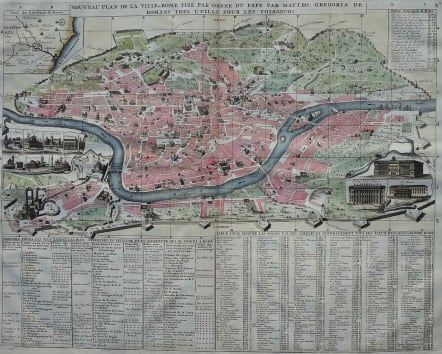 NOUVEAU PLAN DE LA VILLE DE ROME
Sold
Full title Nouveau Plan de la Ville de Rome Tire par Ordre du Pape par Matteo Gregoria de Romans Tres Utile pour les Voiageurs..
This amazing map of Rome illustrates numerous important buildings located within the fortified city. The extensive table along the lower half keys specific "tourist" sights, residences, important buildings, etc. Two insets handsomely presented as unfurled scrolls show the elevation of the most important buildings including Palais du Pape, Palais de St. Pierre, Ste. Marie and several other churches. Plus a third inset is a map "Carte des Environs de Rome" and at upper right a table lists the churches of Rome. This handsome city plan is displayed in a partial birds-eye view perspective giving it a somewhat three dimensional feel.
Excellent hand colour.
Beautiful, mint example.
Cartographer : CHATELAIN Family
Zacharie Chatelain (d.1723) was the father of Henri Abraham (1684-1743) and Zacharie Junior (1690-1754). They worked as a partnership publishing the Atlas Historique, Ou Nouvelle Introduction A L'Histoire … under several different Chatelain imprints, depending on the Chatelain family partnerships at the time of publication. The atlas was published in seven volumes between 1705 and 1720, with a second edition appearing in 1732. The maps were accompanied by information pertaining to cosmography, geography, history, chronology, genealogy, topography, heraldry, and costume of the world.
subscribe to our newsletter