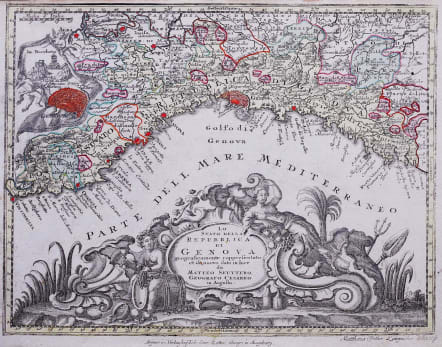 LO STATO DELLA REPUBLICA DI GENOVA
Sold
This outrageously decorative , rare and detailed map depicts the Republic of Genoa, which was an independent state from 1005 to 1797, when it became occupied by the French revolutionary army of Napoleon. It was subsequently annexed by France until 1814, when the Congress of Vienna determined that it should be given to the Kingdom of Sardinia. At upper left is an inset view of the city of Genoa and the Passo della Bocchetta within a drape that is held up by putti. An elaborate rococo-style title cartouche fills the bottom portion of the map, surrounded by a vignette representing the rich agricultural bounty of the region. Demeter, goddess of the harvest, presides over the scene with a boy atop a wine barrel holding a goblet and a bunch of grapes. Engraved by Matthaeus Petter Lainpacher.
Very good condition
Cartographer : SEUTTER Family
Besides the Homanns, the other great German publishers of the eighteenth century were the Seutter family. Mattheus Seutter the elder (1678-1757) was apprenticed to Johann Baptist Homann in 1697 in Nuremberg, but left to settle in Augsburg where he established his own business publishing atlases, including the "Atlas Geographicus" (1725) and "Grosser Atlas" (circa 1735). Seutter's style was heavily influenced by Homann, with distinctive similarities appearing in his maps. He was joined in the business by his son, Albrecht (1722-1762), who continued the firm in partnership with Tobias Conrad Lotter (1717-1777) on his father's death.
subscribe to our newsletter