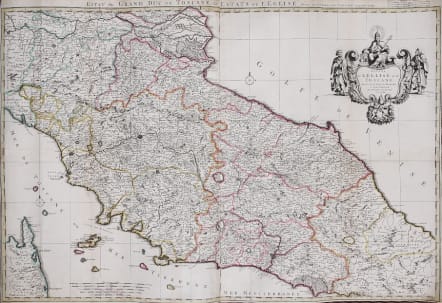 ESTATS DE L'EGLISE ET DE TOSCANE
Sold
A beautiful, large scale map of Tuscany, and the surrounding regions including the island of Elba and part of Corsica by Nicholas Sanson and published by Pierre Mortier. A title cartouche, depicting the Pope (most likely Pope Innocent XIII) is at the top right section of the map. Striking, vibrant, original color.
For much of the 17th century, the Dutch led the world in cartography with their highly decorative maps. Toward the middle of the 17th century the French began to mark their presence in the world of map publishing. It is generally accepted that the great age of French cartography originated with the work of Nicholas Sanson, who is regarded as "the founder of the more precise and scientific French school of cartography and geography."
Small margins.
Very good condition.
Cartographer : Pierre Mortier
subscribe to our newsletter