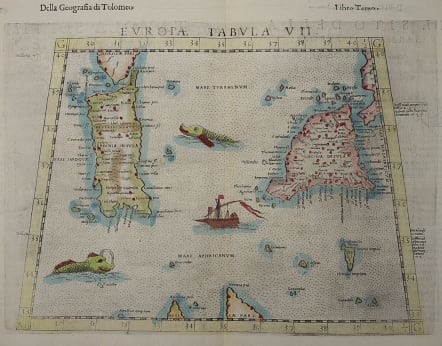 EUROPAE TABULAE VII
Sold
Rare map from Ruscelli's 'Ptolemaeus La Geografia' .This map is from the 1599 edition of the atlas, published in Venice by G. Ziletti, the only edition with decorative features.
This is the Ptolemaic, classical map of the region which covers the islands of Sicily, Sardinia and Malta.
The decorative elements not found on other quarto versions of the Ruscelli/Ptolemy maps include the eruption of Mount Etna, two sea monsters in the Mediterranean and a galleon between the two islands.
This is an essential map for the collectors of the region.
Very good hand colour.
Excellent condition.
Cartographer : RUSCELLI Girolamo
Size : 20*26 cms ..23*31 cms sheet
Girolamo Ruscelli (1500s-1566) was an Italian polymath, humanist, editor, and cartographer active in Venice during the early 16th century. Ruscelli is best known for his important revision of Ptolemy's Geographia, which was published post humously in 1574. It is generally assumed that Alexius Pedemontanus was a pseudonym of Girolamo Ruscelli. In a later work, Ruscelli reported that the Secreti contained the experimental results of an 'Academy of Secrets' that he and a group of humanists and noblemen founded in Naples in the 1540s. Ruscelli's academy is the first recorded example of an experimental scientific society. The academy was later imitated by Giambattista Della Porta, who founded an 'Accademia dei Secreti' in Naples in the 1560s.
subscribe to our newsletter