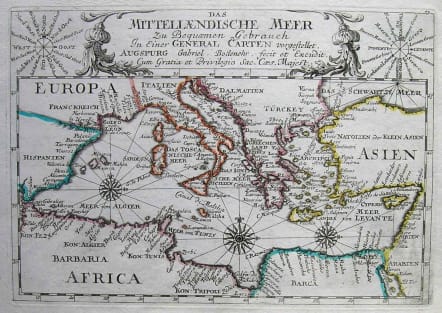 MEDITERRANEAN SEA DAS MITTELLAENDISCHE MEER
Sold
Stunning map of the Mediterranean with 3 compass roses,rhum lines etc.Original outline colour.Mint condition.
Cartographer : BODENEHR Gabriel
Date : 9000./ 1708 Augsberg
BODENEHR, Gabriel
1673-1765
German engraver and mapmaker of Augsburg. Son of Johann Georg Bodenehr [1631-1704] & from a family dynasty of engravers and publishers.
His works include Atlas Curieux [1704] and Curioser Staats und Kriegs Theatrum [1715].
In 1717 the family took over the Augsburg publishing house of Stridbeck. Succeeded by his son Gabriel the younger.
subscribe to our newsletter