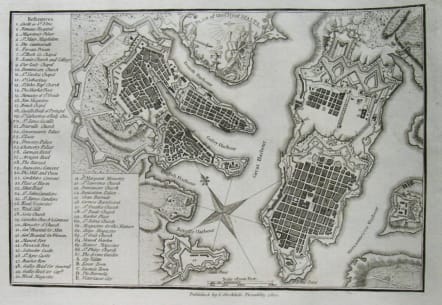 MALTA VALETTA A PLAN OF THE CITY OF MALTA
Sold
Attractive plan of Valetta by Andrews from 1770c but published by Stockdale in 1800. Finely engraved in so far as most buildings are individually show and mentioned in legnd on left hand side.
Mint condition.
SOLD
Cartographer : STOCKDALE John
John Stockdale (March 25, 1750 - June 21, 1814) was an English book and map publisher active in London in the late 18th and early 19th centuries.
Stockdale had a number of important works to his name, including several geographies, most notably the 1794 American Geography 1794 and, with John Cary, the 1805 New British Atlas
subscribe to our newsletter