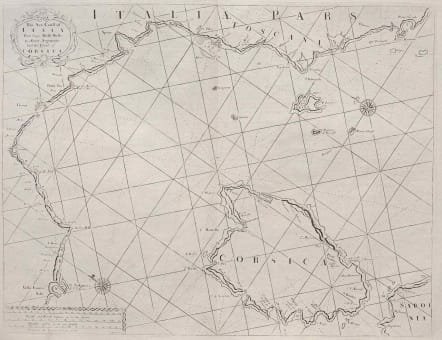 SEA CHART CORSICA *reseved** THE SEA COAST OF ITALY FROM CAPE DELLE MELLE TO MOUNT ARGENTATO WITH THE ISLAND OF CORSICA
Sold
Rare sea chart of Corsica.
:Magnificent chart of the Gulf of Liguria and the Tyrrhenian coast with Corsica, Elba and Tuscan archipelago. Taken from the work "Atlas Maritimus", printed in London . Cartouche.
This chart has rumb lines and a pair of compass rose.
Uncoloured as issued. Mint condition.
Cartographer : SELLER John
John Seller (c.1630-1697) was an instrument maker, publisher and mapmaker, now best known as the first Englishman to endeavour to compete with the Dutch in the production and publication of sea-charts.
Seller acquired the printing plates from Jan Jansson's "Light Der Zee-vaert", originally engraved in 1620, substituted English titles and then re-published them. For this he was appointed Hydrographer to King Charles II in 1671 - a mark of the king's concern that domestic chart-making be encouraged and protected, rather than as recognition of work well done.
Seller then embarked on the publication of the English Pilot, a rutter in several volumes, each devoted to a different region of the world, issued from 1671/2 onwards. In 1675, Seller started to issue the "Atlas Maritimus", a composite sea-atlas of the world, comparable in intent with the work of Dutch publishers such as Jansson and de Wit.
subscribe to our newsletter