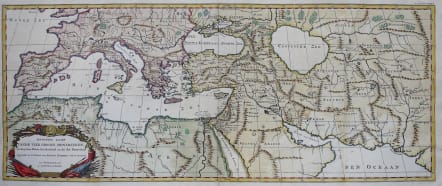 BYSONDERE KAART VANDE VIER GROOTE MONARCHIEN
Sold
This uncommon chart of the Roman Empire covers all the Mediterranean and extends into Asia as far as the Indus River. It illustrates the region as described in Flavius Josephus' history of the Jewish War from AD 66-73. The map is decorated with a military-themed title cartouche. On two joined sheets, as issued.
Ascribed to Marten Shagen but probably published by Mortier.
Excellent hand colour.
Very good condition.
Publication: Alle de Werken van Flavius Josephus
Cartographer : Pierre Mortier
subscribe to our newsletter