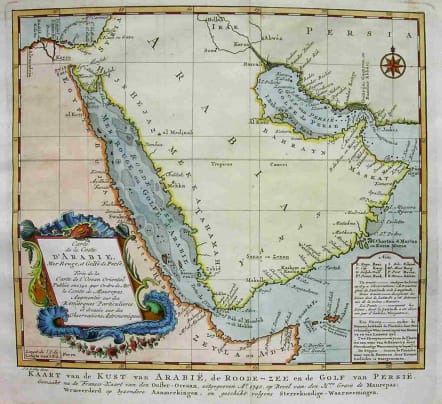 ARABIA CARTE DE LA COSTE D'ARABIE
Sold
Full Title:Carte de la Coste d'Arabie Mer Rouge et Golfe de Perse. Tiree dee la Carte de lOcean Oriental Publiee en 1740 par Ordre de Mer le Comte de Maurepas. Augmentee sur des Remarques Particulieres et dressee sur des Observations Astronomiques.
Rare 1773 edition.
Cartouche,Compass rose etc.Very good hand colour.Very good condition.
Tibbetts, Arabia in Early Maps, 267.
Cartographer : SCHLEY Jacob
Date : 1740 / 1773 Amsterdam
Jakob van der Schley, or van Schley, draughtsman and engraver, 1715-1779. He was a student of Bernard Picart (1673-1733), whose style he imitated. Van der Schley engraved mostly portraits as well as most of the plates in Prévost's Histoire générale des voyages (The Hague: P. de Hondt, 1747-1780).
subscribe to our newsletter