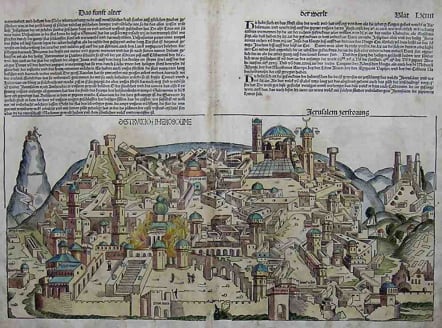 JERUSALEM DESTRUCCIO IHEROSOLIME
Sold
Original woodcut from the famous "Nurnberg Chronicle", printed in Nuernberg, in July 1493. Fully hand colored city view. Verso illustrated as well with eight smaller hand colored woodcuts of saints and a half-page scene showing the destruction of Jerusalem ('Hierosolimorum exicidium') Latin text edition. This view of Jerusalem is one of the earliest obtainable authentic city views, published only a few years before 1500. This plate was exactly published and printed in July 1493 in Nurnberg at Koberger. The "Nurnberg Chronicle" was the earliest and most richly illustrated incunabula and description of the world, which was as well illustrated with a small number of authentic double page city views. The woodcuts were mostly cut by Pleydenwurff.
[image ca. 25,8 x 53,7 cm]
Centrefold reinforced on back otherwise very good condition.SOLD
Cartographer : Hartman SCHEDEL
Hartmann Schedel (13 February 1440 - 28 November 1514) was a German physician, humanist, historian, and one of the first cartographers to use the printing press. He was born in Nuremberg. Matheolus Perusinus served as his tutor.
Schedel is best known for his writing the text for the Nuremberg Chronicle, known as Schedelsche Weltchronik (English: Schedel's World Chronicle), published in 1493 in Nuremberg. It was probably commissioned by Anton Koberger. Maps in the Chronicle were the first ever illustrations of many cities and countries.
With the invention of the printing press by Johannes Gutenberg in 1447, it became feasible to print books and maps for a larger customer basis. Because they had to be handwritten, books were previously rare and very expensive.
Schedel was also a notable collector of books, art and old master prints. An album he had bound in 1504, which once contained five engravings by Jacopo de' Barbari, provides important evidence for dating de' Barbari's work.
subscribe to our newsletter