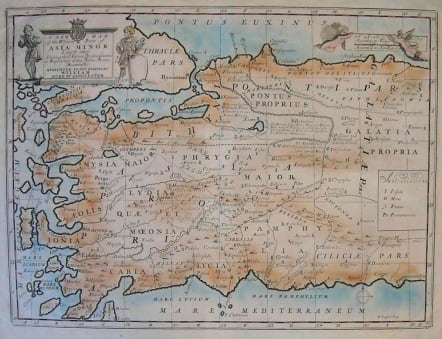 TURKEY A NEW MAP OF THE WESTERN PARTS OF ASIA MINOR
Sold
Title: A New Map of the Western Parts of Asia Minor Largely taken: Shewing their Antient Divisions. . . Dedicated to His Highness William Duke of Gloucester.
Very fine and detailed copper engraved map. The title cartouche is flanked by two men, a soldier and a peasant, and the scale of miles is held aloft by two putti.Good old but not original colour.Very good condition.
Edward Wells (1667-1727) authored "A New Sett Of Mapps Of Ancient And Present Geography ..." in 1700.
Wells was a teacher of mathematics and geography at Christchurch College, Oxford University. He compiled the "New Sett Of Mapps" notable for the parallel maps of classical and contemporary geography.
The maps are all dedicated to the eleven year old William, Duke of Gloucester, a student of his at Oxford at the time, whose mother later became Queen Anne. Unfortunately, all seventeen of her children, including William, predeceased her.
The maps are very much intended as a tool in teaching geography, with less emphasis on, and requirement for, great geographical detail. The maps, engraved in the main by Michael Burghers, the engraver to the University of Oxford, have an unsophisticated charm, which makes them very popular with modern collectors.
subscribe to our newsletter