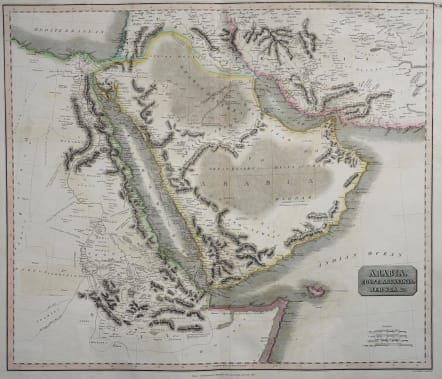 ARABIA, EGYPT, ABYSSINIA, RED SEA ..
Sold
Rare map in this condition
Beautiful and stunning folio map of Arabia and the Red Sea. So finely engraved by Menzies it manages not only to depict the relief of the mountains but by excellent stippling shows the sandy desert.
The main caravan routes across Arabia are shown along with early depiction Of Kuwait Kueit, Bahrain, Qatar Catura, etc. The Red Sea coast with Jeddah Mecca and Medinah and the routes from Africa are much more accurate.
Oner of the great maps of Arabia in original colour.
This is the first edition of the map and therefore is a crisp and strong impression.
Excellent condition.
Publication: Thomson's New General Atlas
Cartographer : John Thomson
THOMSON, John
flourised 1814-1869
John Thomson produced two major works in his life time, A New General atlas of the World 1814-28 and Atlas of Scotland 1820-32. The maps from A New General atlas of the World were printed in full hand coloring from large copperplate engravings. The level of detail at the time of publication was heralded as a breakthrough in British cartography and Thomson rightly earned a great deal of attention and his work copied for a number of years
subscribe to our newsletter