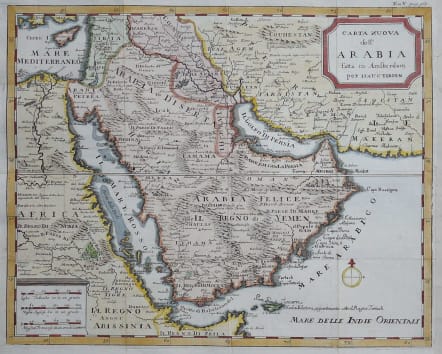 CARTA NUOVA DELL' ARABIA
Sold
A very good example of this uncommon map of Arabia.Although in Italian this map appears to have been published in Amsterdam, the earlier example of this map was published by Albrizzi in Venice.
Very detailed map with trails across Arabia marked. Compass rose.
Very good hand colour.
Very good condition.
Cartographer : Isaac TIRION
Isaac Tirion (c.1705-c.1769) was born in Utrecht. He became a prominent bookseller and publisher with premises on the 'Kalverstraat' in Amsterdam and was also to become a member of the board of the booksellers' guild. He was responsible for a large number of atlases and books with maps.
subscribe to our newsletter