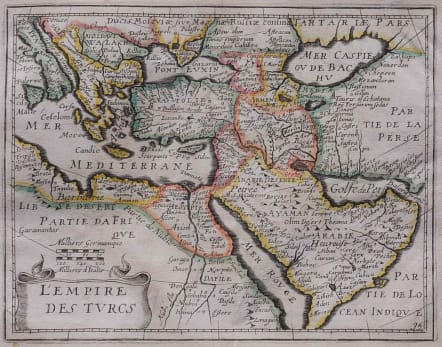 L"EMPIRE DES TURCS
Sold
Rare map of the the Turkish Empire and neighbouring regions, which appeared in Picart's Tresor des carte Geographiques, published in Paris.
Picart's map is based upon Jansson's map, published in his Atlas Minor in 1628. The first French version of the map was published by Jean Boisseau in 1643, followed by this rare map by Picart, first published in 1651.
Appears to be original outline colour
Very good condition
**According to Raremaps "The map is extremely rare, with no appearances in AMPR in the past 30 years" ***
Cartographer : PICART Nicolas
Not much is known about Nicolas Picart. He is known as an engraver and a mapmaker who produced a map of Africa with decorative panels in 1644. He is also known to have published editions of Trésor des cartes géographiques from 1651 to c.1659.
subscribe to our newsletter