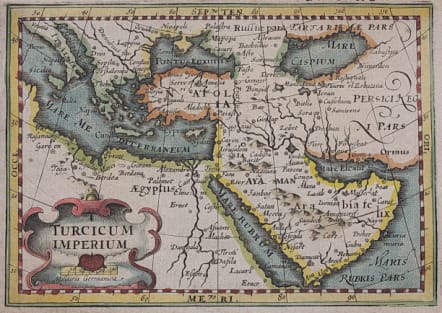 TURCICUM IMPERIUM
Sold
Attractive map of the Middle East, extending from Italy in the west to the Arabian Sea and a horizontally oriented Caspian Sea in the east. Tiny towns, rivers and mountain ranges are depicted, and the map is adorned with a strapwork cartouche and stippled sea. The majority of the maps for Bertius' geographical treatise were engraved by Jodocus Hondius Jr. after Mercator. French text on verso.
Very good condition.
Excellent hand colour
References: Van der Krogt 3, 8100:342.
Cartographer : Petrus BERTIUS
Petrus BERTIUS
The origins of the miniature pocket atlas lie in Barent Langenes Caert Thresoor of 1598. A large number of the 169 maps were engraved by Petrus Kaerius (Van Den Keere). This small but attractive atlas was sold for the first time in 1599 by Cornelis Claesz in Amsterdam. In 1600, Claesz published the atlas with a Latin text composed by Petrus Bertius; from then on, new editions, often enlarged with new maps, regularly appeared. Petrus Bertius was born at Beveren, Flanders, in November 1565. As a refugee, Bertius settled in Amsterdam and, after finishing his studies, he became a professor of mathematics and librarian at the University of Leiden. In 1618 he also became cosmographer and historiographer to Louis XIII of France, and lived in Paris, where he died in October 1629. His fame among geographers was established by his text in the pocket atlas Tabularum Geographicarum.
subscribe to our newsletter