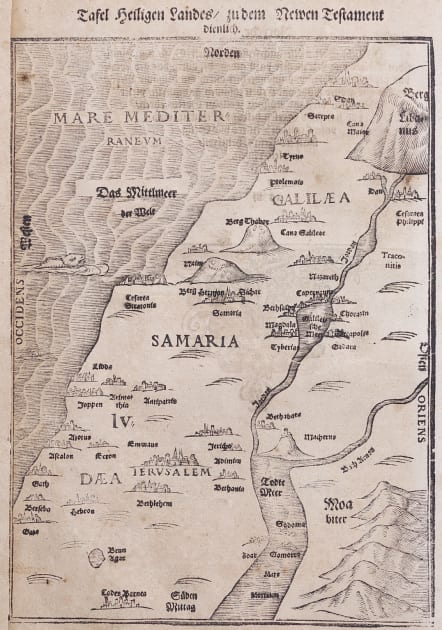 TAFEL HEILIGEN LANDES ZU DEM NEWEN TESTAMENT DIENLICH
£185
Uncommon Bunting map of the Holy Land from the New Testament from the 'Itinerarium Sacrae Scriptura' printed Magdeburg in 1581.
From Sidon to Gaza. This is one of ten maps in Bünting's Itinerarium, in which the author, a theological commentator, rewrote the Bible as an illustrated travel book.
Left margin reinforced no loss of printed surface./
Very good condition for this rare map.
References: Laor, 143.
Heinrich Bünting (Hannover, 1545-1606)
Heinrich Bünting was a protestant pastor and theologian. He was also a brewer in Hannover, and he was concerned with history and wrote a Braunschweigische Chronica in 1584. His main work was the popular Itinerarium Sacrae Scripturae, which after the first edition in Magdeburg in 1581 had many editions in German, Latin, Dutch, Swedish, Danish, Czech and English.
The book gave an overview of biblical geography based on the travel descriptions of various notable people from the Old and New Testaments. It contained ten woodcut maps, including three figurative maps: the world depicted as a cloverleaf with Jerusalem in the centre, Europe in the shape of a crowned woman, and Asia as the winged horse Pegasus.
subscribe to our newsletter