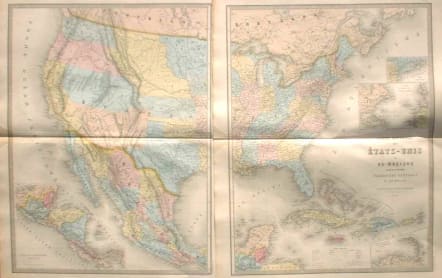 CARTE GENERALEDES ETATS-UNIS ET DU MEXIQUE
£175
Two sheets can be joined to make an impressive large map of the United Srates,Mexico and West indies.Fantastic wealth of detail,railways(only from east coast to Jefferson City and New Orleans),the trail crossing to west coast-2inset maps etc.Original colour.V.good condition.
Cartographer : ANDRIVEAU-COUJON
Size : 46*61cms-each sheet
J. Andriveau and J. Goujon (fl. 1805-94), working together as Andriveau-Goujon. Prolific 19th century mazp makers.
subscribe to our newsletter