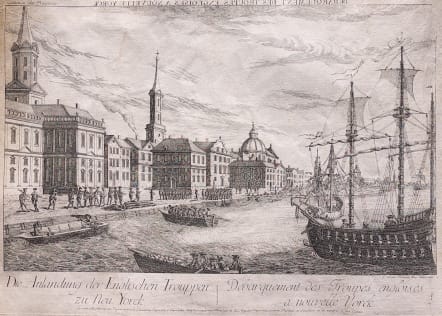 DEBARQUEMENT DES TROUPES ENGLOISES A NOUVELLE YORCK
£125
Attractive copperplate print showing the English Troops disembarking from their ship to take New York back from revolutionary forces, was one of a small series of prospects engraved during the American Revolutionary / War of Independence period.
Others include: the great fire of NY & the pulling down of the statue of King George III at Bowling Green. This is most certainly a contrived view, and the buildings based upon European scenery.
Titles below in both French and in German, and title in French is reversed a la the 'Vue d'optique' prints of the same period.
Engraved byt HABERMANN, F
Uncoloured as issued
Good condition
subscribe to our newsletter