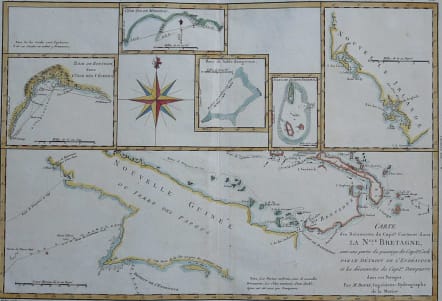 CARTE DES DECOUVERTESDU CAPITE. CARTERET DANS LA NLLE. BRETAGNE
Sold
Title: Carte des Decouvertes du Capite. Carteret dans la Nlle. Bretagne, avec une partie du passage du Capite. Cook par le Detroit de L'Endeavour et les decouvertes du Capite. Dampierre dans ces Parages. - Par M. Bonne, Ingenieur-Hydrographe de la Marine.
Detailed map of Papua New Guinea and the regions to the West, including New Ireland, Southern Mindanao, Joseph Freewill, Sable Banks and part of the Celebes.
Good hand colour.
Repaired wormhole in margin otherwise good condition.
Cartographer : BONNE Rigobert
Rigobert Bonne (1727-1795), a prolific French cartographer, was active between about 1760 and 1788, working in the French Hydrographical Office, and appointed as Hydrographer to the French King.
Bonne prepared a large number of charts, some of which appeared in the Atlas Maritime. Today, he is best known for the smaller maps that he prepared for Raynal's Atlas de Toutes Les Parties Connues du Globe Terrestre, published in 1780, and the Atlas Encyclopedique, published in conjunction with Nicholas Desmarest. Although the maps are relatively plain, dispensing with the decorative embellishment of mid-century, they are detailed and provide good coverage of newly discovered regions.
subscribe to our newsletter