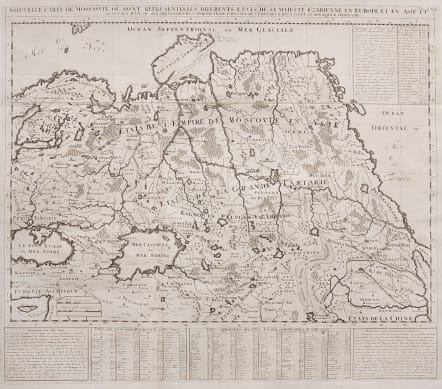 NOUVELLE CARTE DE MOSCOVIE OU SONT REPRESENTES LES DIFFERENTS ETATS DE SA MAJESTE CZARIENNE EN EUROPE ET EN ASIE
£165
Attractive and very detailed map of Russia, Tartary and northern China featuring river systems, forests, deserts, towns, etc. A table at the bottom of the page locates principal provinces and towns by lettered keys, and is flanked by panels of text with notes about the region and its inhabitants.
Engraved in Chatelain's typical style showing forests, rivers mountains etc.
Great Wall of China depicted.
Uncoloured as issued
Good strong impression.
Excellent condition.
Publication: Atlas Historique
Cartographer : CHATELAIN Family
Zacharie Chatelain (d.1723) was the father of Henri Abraham (1684-1743) and Zacharie Junior (1690-1754). They worked as a partnership publishing the Atlas Historique, Ou Nouvelle Introduction A L'Histoire … under several different Chatelain imprints, depending on the Chatelain family partnerships at the time of publication. The atlas was published in seven volumes between 1705 and 1720, with a second edition appearing in 1732. The maps were accompanied by information pertaining to cosmography, geography, history, chronology, genealogy, topography, heraldry, and costume of the world.
subscribe to our newsletter