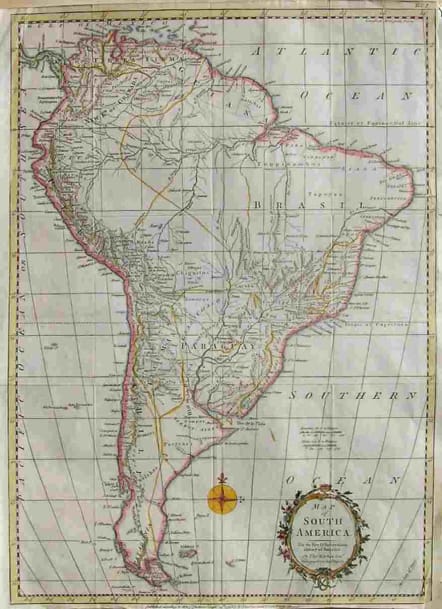 MAP OF SOUTH AMERICA
Sold
Decorative map of the whole of South America from Rev.D.Robertsons History of America.Interesting delineation of countries.Many names of Tribes etc,even more so is the road marked from Quito to Beunos Ayres.Hand colour,Compass rose.Folds but good condition.
Cartographer : KITCHIN Thomas
Thomas Kitchin (1718-1784) was one of the best and most prolific engravers of the eighteenth century. He issued The General Atlas, Describing the Whole Universe , first published in 1773, and regularly reissued thereafter. His work also included a large number of maps of the English counties, particularly for the London Magazine (1747-1760), the Universal Magazine (1747-1766), and for Dodsley's England Illustrated (1764). Other maps were published in conjunction with Emanuel Bowen in the Large English Atlas and the Royal English Atlas (1763).
subscribe to our newsletter