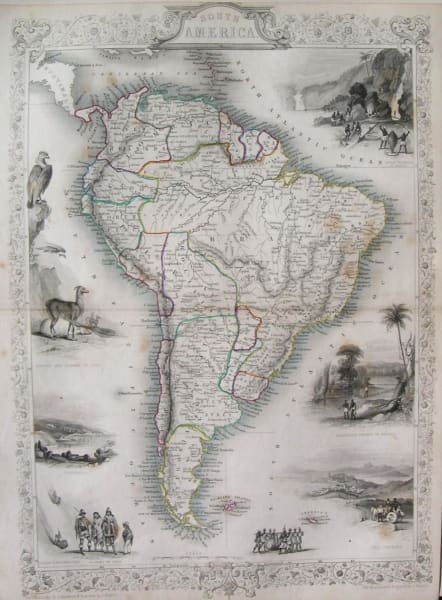 SOUTH AMERICA
Sold
John Tallis's extremely attractive c. 1850 Map of South America. Depicts the continent divided into political zones and surrounded by attractive decorative vignettes. Peru is shown divided into North Peru and South Peru. Ecuador, Venezuela, and Columbia are united as Grand Columbia. Modern day Argentina is divided into La Plata, Entre Rios, and Patagonia. Chili extends southward only to the border of Patagonia. Bolivia has a coast. Vignettes include, from the top left in a counterclockwise fashion, a scene from Peru with a Condor and a Lama, a view of harbor of Valparaiso, a sketch of indigenous peoples descending from the Cordilleras, an image of the natives of Chili, an image of indigenous peoples carrying a large barrel, a view of Rio de Janeiro, a drawing of a Brazilian rope bridge, and a view of Gold Washing in Brazil. The whole is surrounded by an attractive decorative border with a floral motif. Prepared by J. Marchant, J. Rogers, and J. Rapkin for issued in John Tallis' 1851 Illustrated Atlas… .
Very good condition.
Cartographer : Tallis John
TALLIS, John
active 1838-1851
John Tallis founder of Tallis and Co., London map publishers who traded under various names: L. Tallis, Tallis & co, John Tallis, John Tallis & co. (London & New York) between 1838 and 1851. After 1850-51, their maps were published by the London Printing and Publishing Co., London and New York.
The Illustrated Atlas of the World, published in 1849 with the maps and decorative vignette's engraved and drawn by J. Rapkin, was one of the last atlases to be truly decorated and is therefore highly prized.
subscribe to our newsletter